Nadezhda Savchenko gives closing statement to court before judge retires to consider verdict on claim she directed deadly artillery strike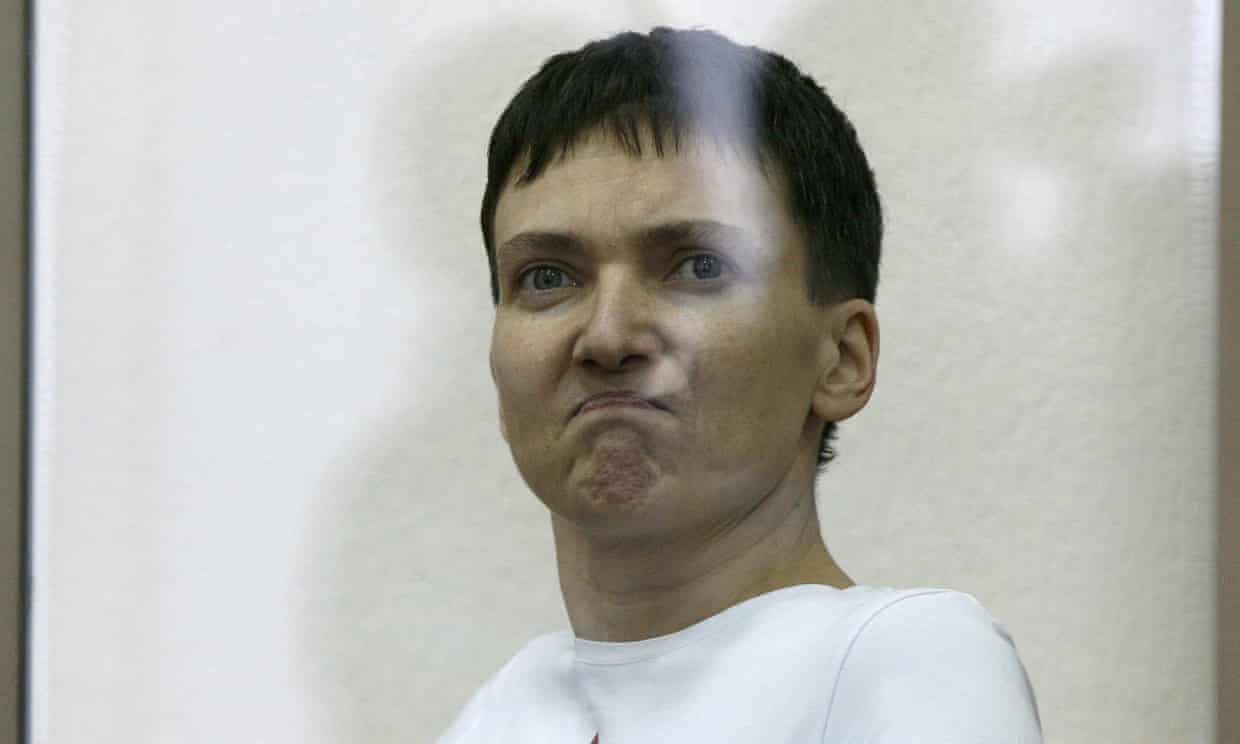 A Ukrainian pilot on trial in Russia has given her closing statement in the case, five days after she began a hunger strike that she has pledged to continue unless she is returned to Ukraine.
Russia has proceeded with the trial of Nadiya Savchenko despite widespread international condemnation. Last week prosecutors demanded a sentence of 23 years' imprisonment.
Savchenko wrote out her statement in advance, which was posted on Facebook before the hearing in the southern Rostov region. On Wednesday she delivered her speech to the court via an interpreter.
"It is an absurd situation when those who abduct people, subject them to torture then act as if they have a right to judge them," she said. "How can one talk about a fair trial? In Russia, there are no trials or investigations; only a farce played out by Kremlin puppets. And I find it superfluous to waste time in my life participating in it."
Savchenko has declared a number of hunger strikes during her nearly two years in Russian captivity, but after last week's hearing she declared she would go on full hunger strike, refusing both food and fluids, until she was returned to Ukraine.
"My life will be draining away and Russia will return me to Ukraine in any case – it will return me, dead or alive," she wrote in the statement.
Russia has agreed that a team of Ukrainian doctors can examine Savchenko in jail. Health complications arising from a full hunger strike are often life-threatening after a week.
Her lawyer Nikolai Polozov said after Wednesday's hearing that she was already suffering from tachycardia and fever, and said that if Russia did not at least announce that Savchenko could return to Ukraine after the verdict, the consequences could be dire.
Prosecutors claim Savchenko directed an artillery strike that resulted in the deaths of two Russian television journalists in June 2014. Savchenko, a military pilot, was serving on the ground with a volunteer battalion during the conflict in east Ukraine. The prosecutors say Savchenko was detained in Russia after crossing the border disguised as a refugee.
However, Savchenko has said she was captured by pro-Russia separatists in eastern Ukraine and then handed over to Russian troops, who took her across the border. Her defence team says there is clear evidence to show she was already in captivity at the time of the artillery strike she is accused of directing.
At the weekend Savchenko's mother, Maria, issued an emotional video appeal to world leaders to put pressure on Russia to free her daughter. "I'm so nervous, I forgot what it's like to sleep," she said. "I pray, help us. Save her from that jail. Put all your efforts towards it," she said.
On Monday the US secretary of state, John Kerry, called on Russia to release Savchenko, saying her detention showed a "disregard for international standards, as well as for Russia's commitments under the Minsk agreements".
In a withering response to Kerry posted on Facebook on Tuesday evening, the foreign ministry spokeswoman Maria Zakharova said his statement was so misinformed that she suspected it was fake. Savchenko's case was not covered by the Minsk agreements, she wrote. She also upbraided the US for holding a number of Russians such as the arms dealer Viktor Bout and pointed out the continuing detention without trial of prisoners at Guantánamo Bay.
Savchenko has become a national hero in much of Ukraine, where she was made an MP in elections last year and appointed to the parliamentary assembly of the Council of Europe, but the international outcry has so far had little effect on Russian authorities. A group of Ukrainian MPs attempting to travel to the court for Wednesday's hearing was detained for questioning at a Moscow airport and missed their connecting flight to Rostov.
Another of Savchenko's lawyers, Mark Feygin, wrote in the Guardian last year that the goal of the trial was to "use her as a propaganda tool against the new government in Kiev". He said he believed the trial was politicised and would result in a guilty verdict, but he hoped Savchenko may be exchanged soon afterwards, possibly for Russian soldiers captured in east Ukraine.
After Savchenko's statement on Wednesday, the judge retired to consider the verdict and sentencing, which are due on 21 March.
Savchenko is the highest-profile Ukrainian prisoner currently being held in Russian jails on charges that many activists say are politicised. Last August the Crimean film-maker Oleg Sentsov was put on trial in Rostov and found guilty of plotting terrorist acts in response to the Russian seizure of Crimea. He was sentenced to 20 years in prison and is currently believed to be in Siberia.
Also in jail is 73-year-old Yury Soloshenko, sentenced to six years for espionage in a closed trial.
http://www.theguardian.com/world/2016/mar/09/ukrainian-pilot-hunger-strike-russian-trial-nadiya-savchenko